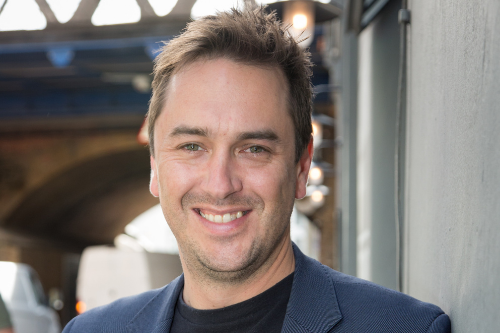 Find out more: Discover the full range of innovative solutions made available by Genasys here
There's a lot of noise around the concept, noted André Symes (pictured), co-CEO of the insurance software provider Genasys, because, after the swathe of investment in B2B technology providers, a lot of them have built up the technology required to enact embedded insurance, not specifically by design but as a by-product of the tech they've created for large carriers. That same technology can be utilised for brokers, opening up a new distribution channel that allows them to do business in a much more efficient way.
Read more: Genasys' co-CEOs on what the UK insurance industry is calling out for
"They've realised that they have this tech so they're making noise about it," he said. "That conversation used to be blockchain, then it was big data, then it was ecosystems but right now it is embedded insurance. And that's purely because people hadn't realised that they could do it so cost-effectively. For instance, with a Genasys platform, I could embed any one of our 400 pre-configured products into any website within one minute."
For insurance brokers that kind of functionality was previously unheard of and, on a practical level, embedded insurance means that they can leverage their strong market relationships to create a mutually beneficial new distribution channel. Take, for instance, Symes said, a broker who works with a local SME who sells motorcycles. If the broker has a solid and mutually trusting relationship with that SME, they can embed their insurance offering directly into the business's website and open up a whole new audience to their services.
It's essentially free distribution because it's so cost-effective now, Symes said, but, in the past, the process for integration was substantially more complicated. Traditionally, if you had a quote and bind system on someone's website, you would have that same product on your core platform and you would interconnect every data input field – names, addresses etc. Throughout the journey, these disparate processes would have to be kept closely synchronised to ensure any change to one platform was reflected by the other, to prevent miss-selling due to product changes.
Read more: Insurance software giant Genasys names joint CEOs
"This made it very difficult to maintain more than a handful of channels at the same time," he said. "So, Genasys took an in-out approach to that. Because we own the product configuration on the platform, rather than replicating the product on someone else's platform and taking on the challenge of synchronising them continuously, we found a clever way of just directly and genuinely embedding the core system in other people's journey.
"For example, take a motor product that is being embedded into 15 distribution partners, and because our client is the custodian of the product, the scheme belongs to them. So, if they, for instance, want to add an additional question, we add it once, click 'deploy' and instantly all 15 of those other distribution partners dynamically start displaying that new question. There is no additional work required on any of our clients' front end websites or that of their partners."
This has significantly lowered the barrier to entry for brokers, he said, as they are now able to distribute via additional partners. Genasys uses widget technology to offer this embedded solution and it goes beyond just lining up data input fields. The widget developed by Genasys carries specialised tokens that track metrics such as drop off rates, where customers are coming on to the platform, and where the referral comes from. This allows brokers to automatically pay commission or referral frees to their partners, he said, so it's incredibly powerful in that it takes effort out of the equation.
"Of course, it's purely based on the relationship that brokers have with the partners who put this functionality on their website," he said. "And one of the biggest challenges that insurance has right now is getting the trust of e-commerce platforms or other platforms to get the insurance embedded. If you look at the average e-commerce platform, their NPS score is around 80%, but insurance generally sits below 30%.
"So, as an entrepreneur, am I going to endanger my brand that I've spent my whole life building because of a bad claims experience my customer might get because they were insured by [an affiliate partner]? Probably not. Is it worth endangering brand damage for a nominal fee? No… So, the insurance industry as a whole needs to improve its perception, its NPS scores and its customer satisfaction because the closer that gets to where e-commerce platforms are, the more adoption they will see with regards to those businesses risking their brand on our reputation."
That is probably one of the biggest challenges Symes sees with regards to the continued success of embedded insurance. And though the solution to this challenge may sound incongruous coming from a tech firm, he said, the answer is that companies need to make sure they are not simply using tech for tech's sake.
In a previous interview with Insurance Business, Symes highlighted that the unique value proposition of Genasys is its determination to move the dial on dialogue around insurance. He noted that this is only possible when technology is used to improve the experience of policyholders and their relationship with insurance and is not used for its own sake. Therefore, Genasys is looking to match insurance businesses with the right solutions that will improve the relationship of insureds with their insurance services.
And the good news for insurance businesses, he said, is that they get an opportunity to test the water as to whether embedded insurance is right for them and their clients as Genasys' solutions do not require a substantial investment of resources. Where once the concept of taking a traditional product and seamlessly embedding it across multiple platforms would have been a multi-million-pound endeavour, Genasys has made the business case for trialling such solutions as they are so cost-effective.
"So companies can take a swing at it and if they miss, it's OK," he said. "The whole idea with innovation is that you fail fast, so you can get back up again. You just want to make that failure as palatable as possible. Companies can't afford to throw £5 million down the drain every time they have an idea that doesn't work out… So, we just want to give people the tools so that they can have a swing and a miss because no-one's gonna take a swing if missing the ball is going to be like falling in cold water at the carnival."
Discover Genasys' full range of insurance technology solutions here