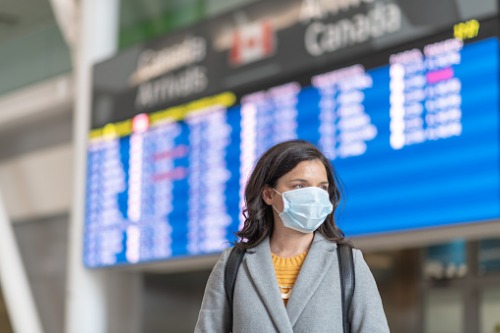 Read more: What will the travel insurance market look like post-lockdown?
To find out which insurers offer the best travel cover for coronavirus-related claims, comparison website Bought By Many compiled and analysed data from several independent financial reviewers. Among the key metrics the website considered were the level of coverage, customer experience, and features sought-after by potential clients.
The company then came up with a shortlist of more than a dozen travel insurers, noting that the top three offer the best COVID-19 travel insurance policies for UK citizens. The firm added that all policies included in the list have the following features:
At least £10 million cover for medical emergency
At least £2,000 cover for personal possessions and baggage
At least £5,000 cancellation cover
At least 31 days of cover per trip
A medical excess of less than £100
Here are the top 14 UK travel insurance providers offering cover for COVID-19-related risks, according to Bought By Many. All details correct as of October 2021:
1. Post Office
Post Office provides cancellation cover within 14 days of the scheduled departure if the policyholder tests positive for the coronavirus or a relative dies due to COVID-19. It also offers curtailment cover if clients are found to be COVID-19-positive at the departure point or after they arrive at their destination, are required to medically quarantine for more than 24 hours, or have relatives who die of coronavirus infection back home. The insurer's policies also cover overseas medical and repatriation costs. All medical conditions are considered with no age limit.
Read more: Post Office restores travel insurance offering – with coronavirus cover
Most good travel insurance policies provide coverage for at least 31 days per trip. But only a few can match LV='s offering, which covers a maximum of 90 days. The insurer's coronavirus cover also includes hospitalisation and repatriation expenses, and costs incurred if the trip is cancelled or cut short because the policyholder or their companion contracts COVID-19. Each policy can insure up to 10 people, with all pre-existing medical conditions considered and no upper age limit required for single trips.
Read more: LV= re-introduces cover for new travel insurance customers
3. Columbus Direct
Columbus Direct offers COVID-19 travel insurance policies that cover cancellation, curtailment and missed departure expenses, and medical and repatriation costs. Its Columbus Gold travel insurance provides £15 million emergency medical cover for trips lasting a maximum of 45 days. The insurer also gives policyholders the option to add coverage for pre-existing conditions, including heart problems and diabetes, which can be done online, although medical screening may be required.
Staysure's COVID-19 holiday insurance pays out for cancelled trips within 14 days of departure and those cut short due to infection of either the policyholder, their travel companions, or the people they live with. It also covers emergency medical expenses and repatriation costs. The travel insurer allows policyholders to change their single-trip policy start date if it falls within 18 months from the date of purchase or within 24 months if the policy was bought from April 29, although this may be subject to age and medical acceptance.
Admiral's Platinum policy provides up to £20 million coverage for emergency medical costs, which is the highest health cover limit among all travel insurers Bought By Many reviewed. Coverage includes US trips as part of its worldwide policy option. The insurer also offers standard coverage, including cancellation, curtailment, and repatriation costs related to COVID-19. Maximum trip duration is 31 days.
6. Insurefor.com
Insurefor.com has launched its Coronavirus for European Single Trip policies, which covers destinations the Foreign, Commonwealth and Development Office's (FCDO) advises "all but essential travel" against due to COVID-19 outbreak. These policies also pay out claims for medical expenses and cancellation costs resulting from a positive diagnosis from the National Health Service (NHS) as long as the policyholder or their companion was not exhibiting any symptoms before the policy was purchased or the trip was booked.
Saga's travel insurance policies have features that cater to people with pre-existing medical conditions. Not surprising for an insurer specialising in providing insurance for people over 50. For COVID-19-related claims, its insurance policies include cover for cancellation and emergency medical costs, as well as expenses incurred due to end supplier failure, such as those for getting replacement flights.
The AA's Gold travel insurance policy provides up to £15 million emergency medical cover, up to £25,000 personal accident cover, and up to £5,000 cancellation cover for trips lasting a maximum of 62 days each. AA members can also get a waiver for their excess meaning they can access these features without additional costs.
9. Sainsbury's Bank
Apart from generous levels of emergency medical (£15 million), and cancellation and curtailment cover (£5,000 each), Sainsbury's enhanced COVID-19 policy provides full cover for European trips to destinations the FCDO advises "all but essential" travel against if the advice is entirely due to COVID-19. Cancellation costs for policyholders who are instructed to self-isolate by the UK Test and Travel System, those who have an adverse reaction to a COVID-19 vaccine, and those who are unable to complete vaccinations because of an illness are also covered.
10. Santander
Santander provides cover for coronavirus-related claims for policies taken from August 12. These include cancellation, medical, repatriation, and additional accommodation and travelling costs. Like most policies in the list, Santander's travel insurance does not cover costs incurred for destinations that the FCDO has advised against all travel or all but essential travel because of a coronavirus outbreak.
AXA's Gold travel insurance policy includes up to £15 million cover for medical emergency and repatriation, $5,000 cover for cancellation or cutting a trip short, and $5,000 cover for travel disruption or delay. Travel duration should not be more than 40 days.
12. Co-operative
Co-operative's coronavirus travel insurance pays out for claims resulting from cancelled or cut short trips due to COVID-19 infection of the policyholder or any member of their family or travelling party. It also provides up to £2,000 cover for additional accommodation if the treatment requires them to extend their trip.
13. Direct Travel
Direct Travel's flexible COVID-19 travel insurance policies provide up to £10 million coverage for medical emergency, which includes pre-existing conditions. Policyholders can also access cover for lost or stolen luggage.
14. Just Travel Cover
Just Travel Cover offers up to £15 million coverage for emergency medical expenses for travellers who contract COVID-19 while on a holiday. Its policies also pay out repatriation and additional accommodation costs, and cancellation expenses related to the coronavirus.