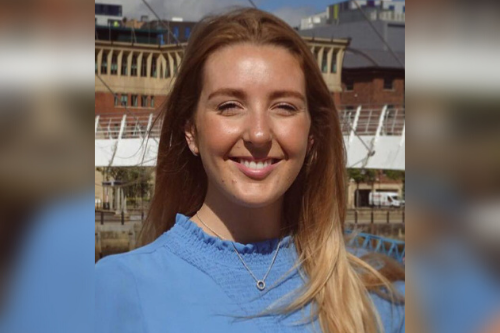 Among these future leaders is Miranda Mote (pictured), claims manager at Talbot Jones Ltd, who only joined the insurance broking sector in March of last year, but has already made tremendous waves. She counts herself among those who "fell" into insurance, she said, having graduated in 2017 with a degree in philosophy and taken an initial role in a claims management company.
While that wasn't her dream job, she said, it did give her a taste for insurance and, after 18 months, she applied for a role with Talbot Jones, which was seeking a recent graduate who would be willing to undertake professional qualifications. Since she has joined the firm, Mote has successfully completed her Cert CII and is now embarking on a Master's degree, supported all the way by the firm's co-founders, Clare and Richard Talbot-Jones.
Read more: Clare Talbot-Jones discusses her recent TEDx talk
"To be recognised with this award, is just lovely, that Clare and Richard thought to put my name forward is so nice. But then there's such a focus on people at Talbot Jones," she said. "The MSc that I'm doing is very focused on leadership and strategic management, and I'm very much an aspiring leader, so I think a lot about that and about the kind of leader I want to be."
What sets the senior team at her firm apart, Mote said, is their excitement about the work that they do, and their enduring commitment to constantly achieving more. The Talbot-Jones's are about non-hierarchical leadership, she noted, and they go out of their way to ask the opinion of the team before making decisions. That kind of 'servant leadership' matches up to her own ethical values and to see it played out at a business level is very rewarding.
Read more: Touchstone Underwriting MD on driving professionalism through qualifications
Being recognised for the role she is playing in promoting professionalism, both through her certifications and her role as a committee member of the British Insurance Brokers' Association (BIBA), has given Mote food for thought about what insurance can offer young talent. She recalled back when she took on her first role how her peers were surprised that she had taken on such an entry-level job.
"I think there's a sense of people wanting the sort of perfect job that's going to tick all their boxes," she said, "but having a more realistic approach allows you to explore something that you might be interested in and you might not. Thankfully, for me, insurance was something that I ended up wanting to have a career in, but that [flexibility] is important because there's probably no such thing as the perfect job."
For Mote, it was the atmosphere and people involved in the broking industry that drew her in and she encourages other young people to explore opportunities they have not previously considered. In turn, insurance businesses must meet the expectations that young people have from their place of work she said. And, from looking at her peer group, Mote noted that there is a strong sense that young adults are looking for a safe harbour. They want a sense of belonging, particularly given such increased remote working which is making that harder than ever to achieve, especially for larger firms.
"And people often talk about making a difference, and there's no doubt that's really important to young people," she said. "When I think of my own role and what it means to receive a really good review, it's so nice that people go out of their way to tell you that. People these days love to feel that they are making an impact."
Having worked at Talbot Jones and seen for herself what it means to be supported, Mote noted that she understand how imperative it is that companies validate and encourage their people. People want recognition and affirmation, she said, whether that's for extra hours or extra work, or simply for a job well done. That kind of appreciation is becoming an expectation, particularly for younger people, and firms need to understand that recognition is the key to making people feel valued for the job that they do, and to helping them see the impact that their job is having.