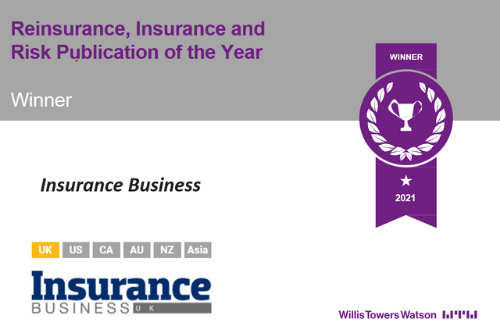 In addition, it was a double celebration for the publication as Mia Wallace, Senior UK News Editor – Insurance, received a highly commended award in the category of Reinsurance, Insurance & Risk Profile Interview of the Year.
"While special praise should be reserved for Mia Wallace, as our lead UK journalist securing so many brilliant interviews and building relationships in the market, as well as Terry Gangcuangco, who has been breaking news and doing such a wonderful job of finding stories no-one else can for several years in the region, the entire IB team plays its part," said Paul Lucas, managing editor of Insurance Business.
"As the industry's truly global publication we're able to regularly source stories from our other markets from the likes of Ryan Smith, Ksenia Stepanova, Gabriel Olano, Lyle Adriano, Chris Davies, Mallory Hendry, Duffie Osental, Maria Hoyle, Pete Miller and Roxanne Libatique, as well as utilising the brilliant international interviews and editorials from the outstanding Bethan Moorcraft. We have also recently welcomed two new hires too – Surina Nath and Daniel Wood – who I am sure will be fantastic additions.
"There are also a host of people 'behind the scenes' who have helped us achieve market-leading status since our inception in the market a mere five years ago – from our SEO and commercial teams, through to events, marketing, research/intelligence and our newsletter co-ordinators. It's a massive team effort across the board, so many, many thanks to everyone involved, as well as to our clients and sponsors who have helped us grow so rapidly, our brilliant industry columnists and contributors, and to all the media teams and PR representatives across the sector who have supported us with such grace and kindness."
Remember you can sign up for Insurance Business's morning briefing and daily newsletter, for free, here.